North West University NWU Mechanical Engineering Department
North West University Mechanical Engineering Department – See Details Below:
Welcome to the School of Mechanical Engineering. Our exciting profession is at the forefront of transformational innovations. The Mechanical Engineering programme maintains a good balance between training in the basic sciences, engineering science, and design. Great emphasis is placed on creative design so that engineers can apply their knowledge to find solutions to complicated problems.
We are grateful for your interest in mechanical engineering and we invite you to explore our academic programmes, student activities and research pursuits.
NWU Mechanical Engineering Department Requirements 
Mechanical engineers are involved with the development, manufacturing, management and maintenance of transport, energy conversion, manufacturing, generator, weapons, cooling and heating systems, as well as industry installations, process equipment, manufacturing machinery and mining equipment.
One BEng programme in Mechanical Engineering is offered in this school.
During their studies, students may change their programme only with the consent of the relevant school director.
Admission to the BEng degree in Mechanical Engineering requires full matriculation exemption, with an APS count of at least 31, Mathematics level 6 (70–79%) and Physical Sciences level 5 (60–69%). The language requirement is a pass at level 5 (60–69%) in the language of instruction in either the home or first additional language. The requirements apply to both NSC and IEB.
Minimum admission requirements for applicants with international curriculums: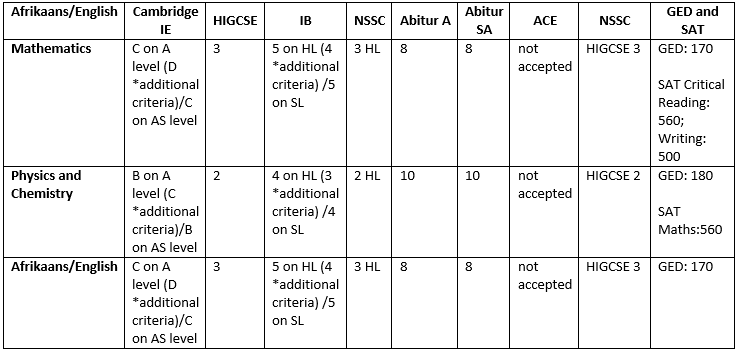 * Additional criteria: An applicant will be considered via a selection procedure that includes the O-level results and the Engineering test results
The main professional bodies associated with the school include:
Engineering Council of South Africa (ECSA).
 South African Institute of Mechanical Engineering (SAIMechE).
Other professional bodies that are associated with different academic staff members at our school.
As a mechanical engineer you will work in South Africa or abroad in the following industries:
  Manufacturing
  Aerodynamics
  Energy technology
  Power generation
  Systems maintenance
  Robotics
  Plant layout and management
  Food processing plants
NWU Mechanical Engineering Department Contact
Prof. Willem Den Heijer
School Director: Mechanical Engineering
018 299 4283
Willem.DenHeijer@nwu.ac.za
NWU, Potchefstroom Campus, Building G15, G03
Ms. Sanette Loots
Office Administrator: Mechanical Engineering
018 285 2512
Sanette.stoop@nwu.ac.za
NWU, Potchefstroom Campus, Building G15, G05
Dr Willem Van Niekerk
Undergraduate Manager: Mechanical Engineering
018 299 4027
Willem.VanNiekerk@nwu.ac.za
NWU, Potchefstroom Campus, Building G15, G05B
Dr Jan-Hendrik Kruger
Postgraduate Manager: Mechanical Engineering
018 299 4496
JanHendrik.Kruger@nwu.ac.za
NWU, Potchefstroom Campus, Building G15, G05A